Balsam Hill Christmas Tree Sale is one of the best you can find online. It is a great way to save time and select your favorite from a huge variety of trees with the added benefit of being in your price range whatever the range maybe. The main aim of Balsam Hill trees on sale is to ensure you get your money's worth even as you enjoy your Christmas to the fullest.
Each year Balsam Hill comes up with amazing discounts for the sale seasons but this year due to the COVID-19 situation all businesses have been forced to reimagine their marketing strategies. Therefore you can easily find a huge variety of balsam hill trees on sale at balsam hill outlets as well as online. With balsam hill black Friday sale 2021 and various balsam hill discount codes this is the best time to buy a balsam hill tree on amazing deals.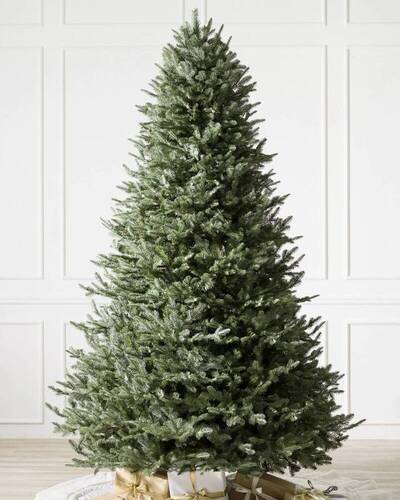 1- BH Balsam Fir Tree. Height - 7.5'
Original Price $899 - Sale $599
A beautiful tree with partly flat needles and upward sloped branches that make the lights shine bright and give the exact look as the namesake tree from farms in Maine.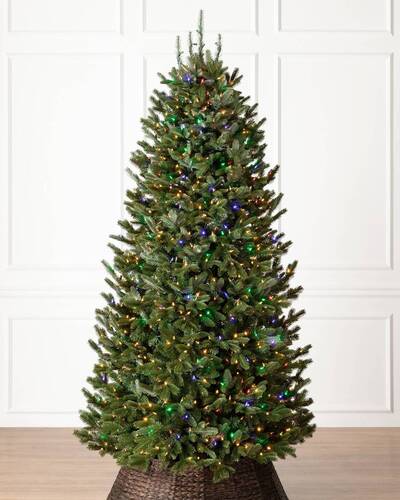 2- BH FRASER FIR® TREE. Height - 6.5'
Original Price $1299 - Sale $849
A touch of southern hospitality with this wonderfully lifelike replica of one of the best-liked Christmas tree species brings color and fullness to your festive season.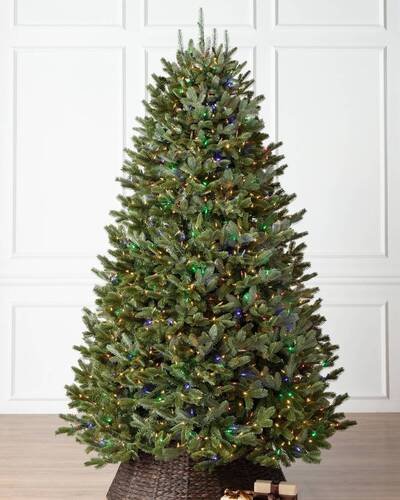 3- BH Fraser Fir Narrow. Height - 6.5'
Original $899 - Sale $699
Crafted from the finest True Needle ™ foliage this features a variation of 40 branch tips that are organic and lifelike in its entirety. With semi fluffed features and memory wiring, this brings in light and adds beauty to your decor this holiday season.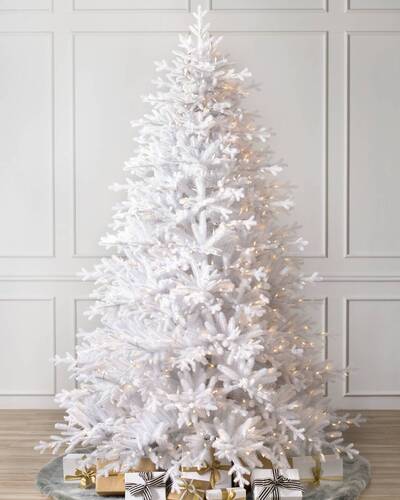 4- Denali White Christmas Tree. Height - 6.5'
Original Price $999 - Sale $649
This Alaskan Denali White Christmas tree is the perfect blend with a wintry wide tree brimmed beauty to add as the cherry on top of your festive Christmas season.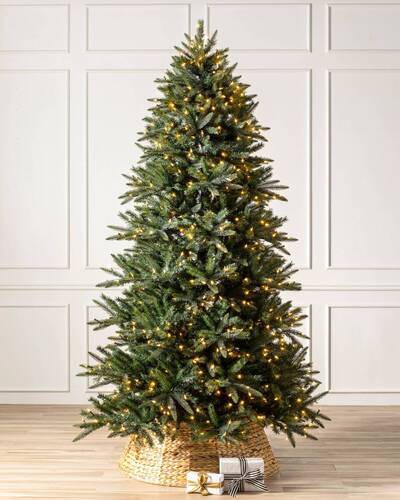 5- Mariana Spruce. Height - 6.5'
Original $1199 - Sale $699
The perfect balance between convenience and beauty, with hand-shaped memory wired branches giving a wonderfully luxurious look to the overall decor.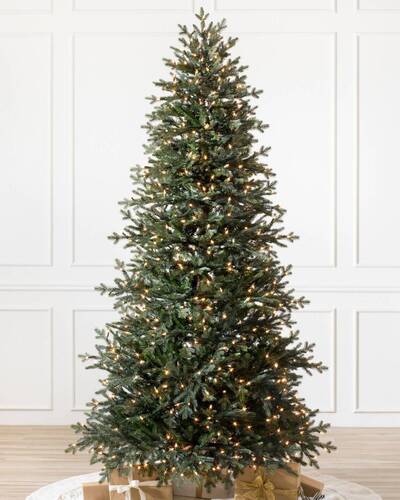 6- Norway Spruce Narrow Tree. Height - 9'
Original Price $1299 - Sale $899
A convenient and easy to setup tree that fits into the smallest spaces you can think of giving each space a wonderfully festive air with its detailed lush conical needles that give out accents of green and brown.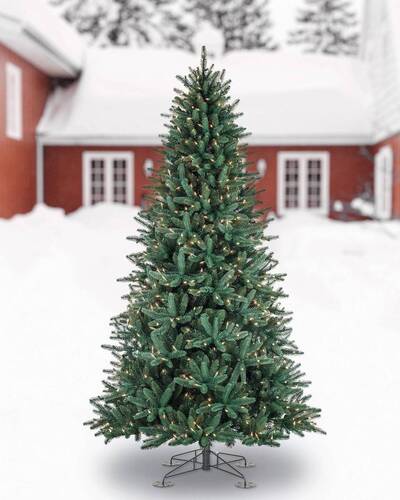 7- Oakville Outdoor Christmas Tree. Height - 10'
Original Price $1299 - Sale $999
With its forest green foliage and long tapered tips and stems, this tree brings to mind the scenic beauty of the Napa Valley trees. A natural blend for the outdoors look.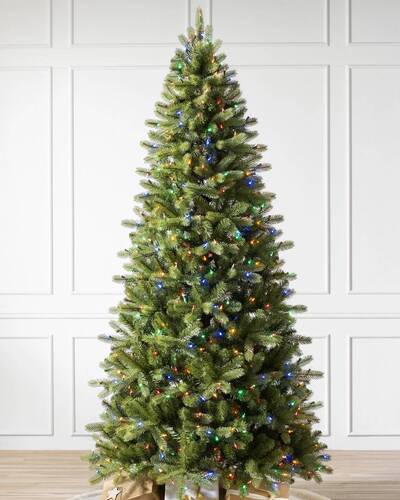 8- Bellevue Spruce. Height – 7.5'
Original Price $999 - Sale $599
An elegant heartwarming tree ideal for showcasing loved and treasured ornaments, this sleek and stylish tree brings cheer to its surroundings.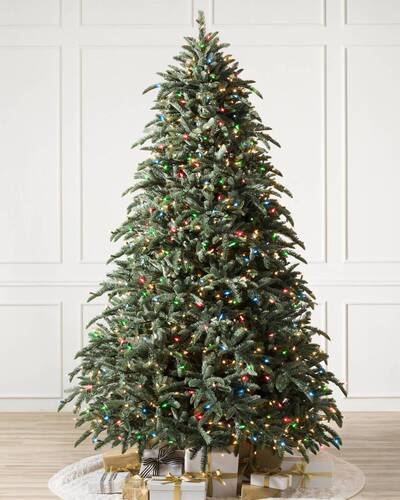 9- BH Noble Fir Tree. Height 5.5'
Original Price $999 - Sale $699
With sturdy branches and grey-green color, this carefully crafted tree mimics nature in such a way that it brings out the holiday cheer to your Christmas naturally and with a lot of love.
10- Classic Blue Spruce. Height – 6.5'
Original Price $1099 - Sale $699
A long-time customer favorite, this Classic Blue Spruce with dense foliage is crafted with flexible and resilient stems. With its wonderful and innovative twinkly LED lights this tree brings in so all the colors that light up a room.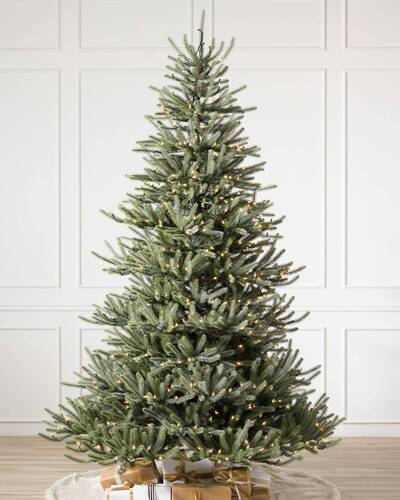 11- Sanibel Spruce Tree. Height 7'
Original Price $999 - Sale $749
This Sanibel Spruce tree with its upward tilted foliage gives ample space for decorations and loved treasures to hang, bringing in the Christmas cheer.
12- Vermont White Spruce Narrow. Height 9'
Original Price $1099 - Sale $749
This is the crowning jewel among balsam hill trees. A perfect upward sloping tree that is so beautiful that you can decorate or leave it bare and see its magic bring your Christmas alive.
13- Calistoga Ornament Tree. Height 9'
Original Price $1099 - Sale $799
This tree is specially made to show off your ornaments. With hundreds of micro LED lights and its widely spaced branches, this is an evergreen that will brighten up your holidays.
14- Woodland Spruce. Height 7.5'
Original Price $1199 - Sale $599
With the simple lush blend of foliage with an elegant statuesque silhouette in dark green, this is one tree that can cheer you up with its simplicity and craftsmanship.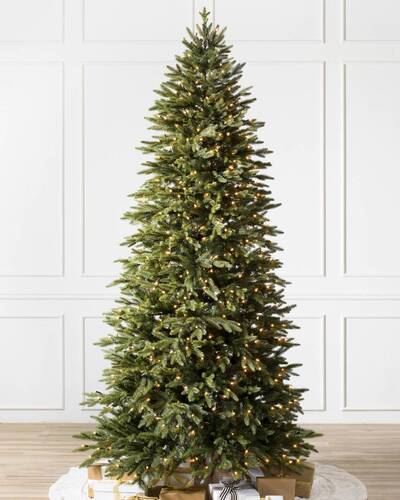 15- Silverado Slim Tree Height 7'
Original Price $1199 - Sale $799
Featured in the New York Times, this tree with its realistic feel and natural green foliage will bring luxury, beauty, and festivity to your house.
16- Yukon Spruce. Height 7.5'
Original Price $999 - Sale $649
With the wild beauty of the Yukon mountains accentuating this tree, it is gorgeous for small or spacious environments to bring in the wild beauty of the outdoors and highlight Christmas festively.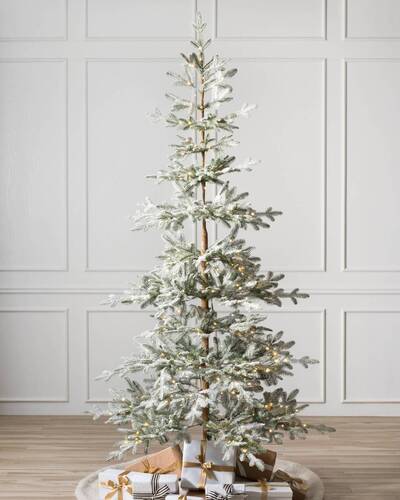 17- Frosted Alpine Balsam Fir Tree. Height 4.5'
Original Price $899 - Sale $699
With a unique outlook, this sparse tree adds the splendor of the winters to your living room giving spacious gaps for ornaments for that extra sparkle.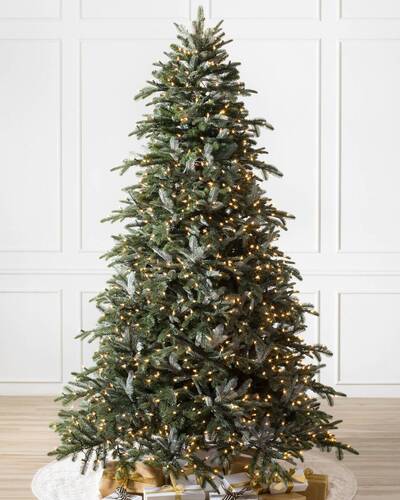 18- BH Nordmann Fir. Height 7.5'
Original Price $1099 - Sale $699
This majestic tree is the replica of what is known as the gold standard Christmas tree of Europe. Designed with innovative technology and realistic evergreen branches this is the perfect way to bring cheer to your home.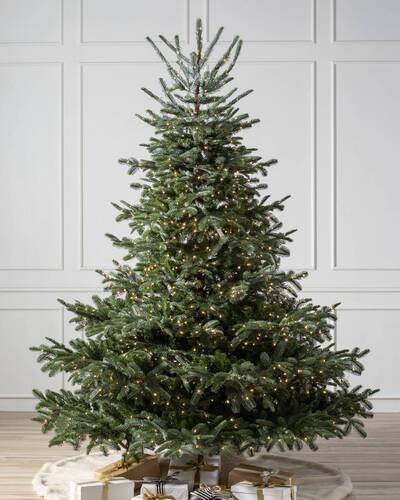 19- European Fir. Height 6.5
Original Price $699 - Sale $549
The natural foliage of dark green needles and this pear-shaped tree is perfect for favorite ornaments and loved treasures.
20- Alpine Balsam Fir™. Height 4.5'
Original Price $299 - Sale $199
An ideal and rarest Christmas tree replica with fanned out needle tips making it perfect for all your decorations, this weeping spruce will liven up your living space and your holidays.
21- Stratford Spruce Tree. Height 9'
Original Price $1399 - Sale $799
With natural-looking thick green tips and brown branches, this is a slim and ultra-stylish tree that will fit into a wide range of spaces making them bright with Christmas feels.
To find the greatest deals you can look up all the balsam hill sales in the balsam hill catalog. Not only is balsam hill offering balsam hill discount code 2021 but customers are more than welcome to look up other favorable options like balsam hill flip tree, balsam hill wreaths, and balsam hill cashback. To ensure reliability it is a good idea to check out balsam hill tree reviews and balsam hill return policy because that can give real-time on-point ideas regarding products and services that customers might be interested in.